Located in Guia, just a few kilometers from Albufeira, you can watch presentations with dolphins, seals and sea lions, with tropical birds and birds of prey. Zoomarine theme park is open all year round from 10am to 6pm, for more precise information and prices see official website.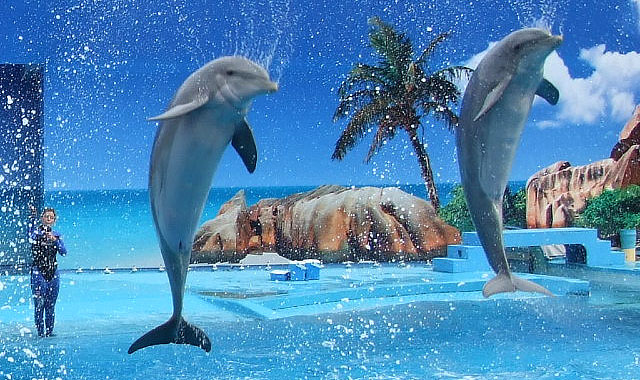 photo by bruteado
Probably the best entertainment for you and your family if you go to the Algarve. Covering over 8 hectares, it offers you everything from sandy beaches and watery fun, to educational exotic bird and dolphin shows.
They offer this wonderful little interactive page to discover the park, highlighting each attraction for easier orientation. At the reception area, you find Kiddy Cars rental, so you can stroll around the place without having to fuss too much, an ATM machine, lost and found section and a gift shop too. The Zoomarine park is complete with 8 baby changing rooms and bathrooms, a restaurant and options to rent sun parasols and hammocks for a lovely mediterranean experience.
Specific areas of the park
Consciencia – in the "consciousness" area you can find some of the leading conservation and scientific projects developed or supported by Zoomarine;
Americas – a large immersion habitat demonstrating the most exotic species of the continent;
Wings of the World – an extraordinary exposition presenting you with exquisite and fast birds;
Sonho e Fantasia – 'dream and fantasy', just the name already speaks for itself, it's a wonderful dolphin show, expressing the amazing relationship between the trainors and the dolphins;
Flying Colours – basically your tropical bird show, not only to please the eyes but to raise awareness to the protection of the exotic species and their habitat;
Oceanus – an amazing view into the sea world, consists of a central theme and 20 ecosystems built around to broaden your education regarding the marine universe;
Barca Pirata – yes, they have a pirate boat with tons of fun, in case you are tired of educating the children and chose to let them swing free;
Carrossel Atlantida – less dangerous non educational fun for the small kids;
Comboio Infantil – If they can't even ride the carousel, there is always a train…
Roda Gigante – a giant wheel where you have to hit the 1.30m mark to get in;
Wonderland – Seals and sea lions, my personal favorite (strictly only after the pirate boat) where these wonderful and smelly creatures show off everything they know, an engaging, interactive and stimulating environment from the beginning till the end;
Dolphin Emotions – this takes your regular park visits to a whole different level. Not only it takes up a significant space from the extension of the park, but it also entertains everyone in a level they need it. It's entirely your choice, for different entry fees, you can either be a spectator, or participate and swim with the dolphins yourself;
Praia – the most fun beach of the algarve, an extensive area of beach, sand, water, fun, slides, playground, anything you would want, your only restriction is the 1.20m height for certain slides;
Harakiri – a 4 lane insane slide (it's not that insane, although i would not go on it, but apparently you can go alone if you're over 1.20m, and with your family if your reach 1.05m);
Rapid River – swirling twirling river fun for families.
Address: E. N. 125, Km 65, Guia8201-864 Albufeira
Phone: (+351) 289 560 300
Fax: (+351) 289 560 309
www.zoomarine.pt
Location Map of Zoomarine, Algarve