The Best Beaches in the Algarve
Do you know that some of the world's best and most beautiful beaches are to be found in the Algarve? There are so many lovely interesting sandy beaches in the Algarve that you will find amongst them a good selection from which to enjoy your holiday.
Along its 200-kilometre coastline, these beaches vary from the small sheltered coves to broad endless stretches of sea washed sand, and the entire coast enjoys a Mediterranean-style microclimate with temperatures that vary from 15º C in winter through to 30º C in summer... Hardly surprising then that the region is a favourite for sun-seekers coming from the most diverse locations. As you travel from east to west along the coast, the beaches tend to become more subject to seasonal currents.
As some excellent beaches are not immediately accessible from the holiday towns, and because it's difficult to choose one from among approximately 150 named beaches, I'm going to give you a list of the Top 10 Algarve Beaches first and then I will leave the rest for you to discover.
Western Algarve Beaches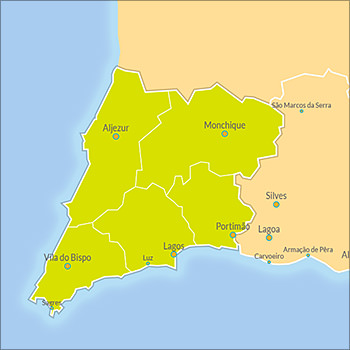 The beaches between Sagres and Portimão, are part of the Western Algarve.
Aljezur
Portimão
Vila do Bispo
Central Algarve Beaches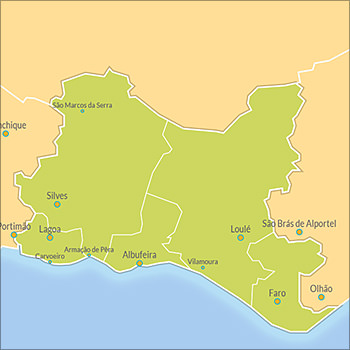 Beaches between Lagoa and Faro, are located in the Central Algarve region.
Albufeira
Faro
Lagoa
Loulé
Silves
Eastern Algarve Beaches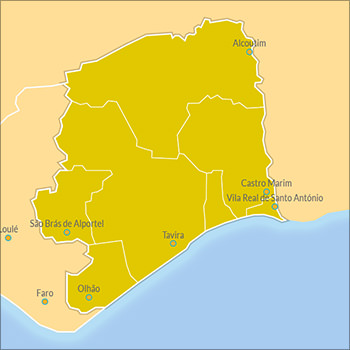 Beaches located between Vila Real de Santo António and Faro.
Castro Marim
Olhão
Vila Real de Santo António
13 Best Beaches in the Algarve
With an extensive coast, where all the beaches have white sand, a long summer, and many hours of sunshine distributed throughout the year, the Algarve is a mandatory beach destination for your summer vacations.
6 Best Beaches in Western Algarve
3 Best Beaches in Central Algarve
4 Best Beaches in Eastern Algarve
Algarve Coastline Beach Map
The Algarve coast counts with a total of 88 Blue Flag beaches. Assuming you'd spend at least one day in each beach (and not going to non-blue flag beaches), you'd have to spend at least 3 months of vacation time just to check them all.
In the map above, only major beaches (blue markers) are visible. If you want to see all listed beaches (green markers), click the drawer icon
in the Google Map top bar, and enable the hidden layers.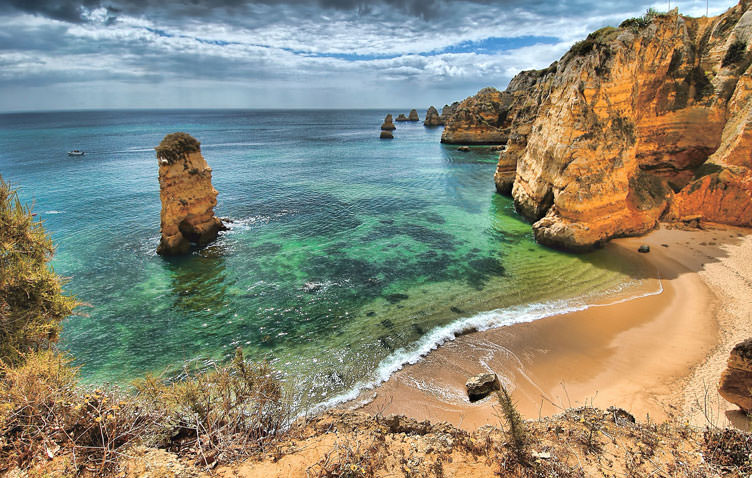 Algarve Beach in Lagos ‹ photo credits (cc) oliver_clarke
Among all these beaches, you will find some lovely just to rest, others to practice different types of water and sports activities, and others to visit with family and friends. The most important is to explore the best that each beach and its surroundings have to offer in terms of daytime and evening activities.
A common characteristic to all beaches in the Algarve is that the most western shores are those with colder waters and stronger winds, while temperatures on the beaches to the eastern and south tend to be more warm and soft.
The whole area offers a great quality of life and, in many cases, the choice of accommodation, areas and beaches to visit depend only on personal choice.